Description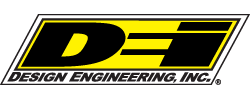 An all-in-one kit for wrapping a set of headers or motorcycle pipes. Available in Titanium or standard wrap.  Kit includes two 2in" x 50ft rolls of exhaust wrap, Locking Ties and Free Locking Tie Tool. Comes in Retail Clamshell Packaging The header wrap kit is enough for any set of V8 headers. The Header Wrap Kit will wrap from the top of the header where it bolts to the heads all the way down to the collector. Exhaust Wrap Kits save you time and money.
2 - 2" x 50' Exhaust Wrap
8 - 8" Locking Ties
4 - 14" Locking Ties
1 - Locking Tie Tool
Motorcycle Kits includes can of High Temp Silicone Coating
Direct Heat Resistance:1200°F
Radiant Heat Resistance:2000°F
Direct Heat Resistance:1800°F
Radiant Heat Resistance:2500°F
Payment & Security
Your payment information is processed securely. We do not store credit card details nor have access to your credit card information.